The United States Department of Veteran Affairs (VA) is both a lender and an entity that can guarantee ("insure") mortgage loans from private third-party lenders. If you are eligible, this can be a great way of obtaining a mortgage loan to purchase, construct or improve / alter / repair your home.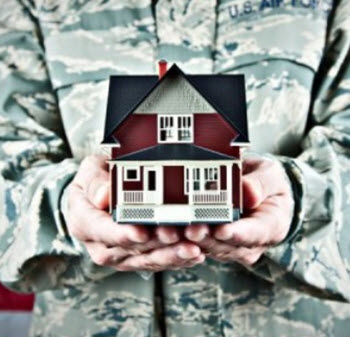 In most parts of the U.S. the Department of Veteran Affairs will not lend money directly. Instead, they will decrease the risk for the lender, thus making it easier for you to obtain a beneficial mortgage loan. Another very important aspect is that with a VA guaranteed mortgage loan, you are allowed to borrow the full amount needed to purchase the home – you don't have to pay a cash down-payment.
Am I eligible for a VA guaranteed mortgage loan?
Only U.S. Military veterans, Reservists and National Guard personnel (and in some cases, the spouse of a person in one of these groups) can be eligible for a VA guaranteed mortgage loan. Belonging to one of these groups doesn't automatically mean that you are eligible – there are certain conditions that must be fulfilled as well.
Reservists and National Guard personnel were not included in the program until the early 1990's and special conditions still apply for them. For instance, having served honorably for a minimum of six years is required. (For more information, take a look at the Veterans Home Loan Program Amendments of 1992.)
What can I use a VA guaranteed mortgage loan for?
The purpose of the VA guaranteed mortgage loan is to make it easier for veterans to become home owners and maintain a home.
Most people know that you can use a VA guaranteed mortgage loan to purchase a home, but fewer realize that they may also be eligible for a VA guaranteed mortgage loan if they need to improve, repair or alter their home.
Another common misconception is that you can't use a VA guaranteed mortgage loan to purchase or maintain a mobile home. Since the 1970s, mobile homes are not excluded from the VA mortgage program.
For a farm, the farm residency count as a home under VA loan regulation.
Area cap
The idea of the VA mortgage loan program is to help people purchase and maintain normal homes, not luxury ones. Therefore, each area has a cap for how large a VA guaranteed mortgage loan can be for a home in that area. The cap is set based on home market prices for the area. This is why it is higher in some areas and lower in others.
Borrow up to 103.3 percent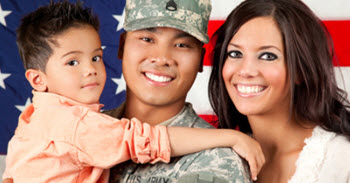 A very appealing aspect of the VA guaranteed mortgage loan is that it makes it possible to purchase a home even if you have no money for a down-payment. You can borrow 103,3% of the purchase prize or reasonable value, whichever is less. Why 103,3% and not 100%? Because the borrower can borrow money to cover the mandatory funding fee. When you obtain a VA guaranteed mortgage loan, you must pay a funding fee. Exception: A veteran receiving at least 10% VA disability does not pay any funding fee.
Can closing costs be included in my VA loan?
No, you are not allowed to include closing costs in your VA guaranteed mortgage loan. You have to come up with this money from another source, e.g. savings account, help from family or borrowing money from a third-party lender.
Examples of closing costs: title search, title insurance, appraisal, survey costs, credit report, transfer fee, transfer tax, recording fee
How can I apply for a VA guaranteed mortgage loan?
You apply for a VA guaranteed mortgage loan using the loan application form 1003 issued by Fannie Mae (the Freddie Mac Form 65).
When you send in you application, let the following items accompany it:
Copy of your DD214 or Certificate of Guarantee
Copies of your two most recent pay stubs
Copies of your W2 statements for the past 2 years.
Documentation of any assets, e.g. real estate, savings account or securities
If you are self-employed, include 2 years of consecutive tax returns
Why is the Department of Veteran Affairs doing this?
The roots of the VA loan program can be found in the Servicemen's Readjustment Act of 1944 (P.L. 78-346, 58 Stat. 284m), commonly known as the G.I. Bill. The U.S. government wanted to help World War II veterans transition back into civil life, e.g. by making it easier for them to become home-owners, borrow money to start a business or attend high school, university or vocational training. A low-interest home mortgage loan with zero-downpayment was offered with especially favorable conditions for those who elected to purchase a newly constructed home. This encouraged returning veterans to move into modern single-family houses built in new suburban neighborhoods, as opposed to the crowded and often unsanitary older city neighborhoods that young non-rural working-class families had to make do with before.
The program was seen as such as success that it was kept alive even after the 1940s and 1950s. Instead of being scrapped once the WWII veterans had been successfully re-integrated into society, the program was extended to include new veterans. The Veterans Housing Act of 1970 removed all termination dates for applying for VA-guaranteed mortgage loans, while the Veterans Housing Benefits Improvement Act of 1978 made it easier for veterans to obtain VA mortgage loans for home improvement projects.