Plus500 is renowned for their enormous selection of Contracts for Difference (CFDs). Through the CFDs at Plus500, you can quickly gain exposure to shares, exchange-traded funds, options, commodities, foreign currency, cryptocurrency, and more. CFDs based on indexes (indices) are also available.
With CFDs, you don´t have to own the underlying asset to speculate on price movements and get well-paid when you get it right. CFDs are cash-settled and you never own the underlying asset. With CFDs, it is easy to make money even when the markets are moving down, and you don´t have to go through the complications and risks that comes with short-selling.
Plus500 is owned by the British-based corporation Plus500 Ltd, which is listed on the London Stock Exchange´s Main Market. (Ticker: PLUS.)
The Plus500 site is available in over 30 different languages.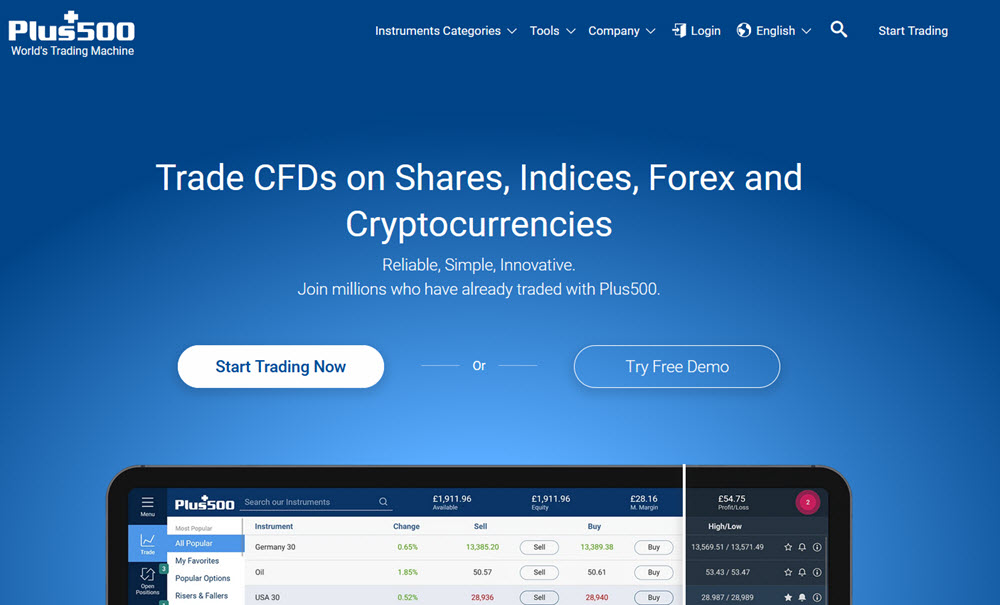 Getting started at Plus500
You can download the trading platform, but that is not mandatory since the platform works excellent in the web browser as well. Mobile apps are available for iSO and Android.
We advise everyone to start out with a free Plus500 Demo Account. You will get a bunch of play-money and can explore the Webtrader platform and the various products without risking any of your own money. Why not take the opportunity to try out a few different trading strategies as well, to see how they work out? When you feel ready, switching to a Plus500 Standard Account and making a deposit is easy.
At Plus500, all real-money trading takes place in Standard Account. Unlike many other online brokers, Plus500 does not offer several different account types. So, when it is time for your to start real-money trading, there is no need to worry about picking the optimal account type for your trading strategy.
The smallest possible deposit is 100 USD.
The Plus500 Webtrader plattform is open 24/7 and there is always some trading going on, around the clock. Some CFDs have more limited trading hours however, due to their underlying assets. A CFD based on a share listed at LSE will trade during LSE trading hours, and so on.
Can I use leverage at Plus500?
Yes, Plus500 offers leverage, up to 1:300. (Local restrictions can apply, however.)
Using leverage is very risky, since you can end up losing more money than you ever had in your account. Leverage is not recommended for inexperienced traders. Never risk more money than you can afford to lose.
Can I gain exposure to cryptocurrency at Plus500?
Yes, Plus500 offers CFDs based on cryptocurrencies such as Litecoin, Bitcoin and Ripple.
Customer support
There is no phone support, but you can use the live chatt support to get help in real-time. Email support is also available. The customer support is staffed around the clock, every day of the week.
Deposits & Withdrawals
The smallest deposit (outside the United States) is 100 USD.
The smallest withdrawal depends on the withdrawal method.
Plus500 usually needs at least three bank days to process a withdrawal request. They do no charge a withdrawal fee.
Examples of accepted transaction methods at Plus500
VISA
MasterCard
PayPal
Skrill
Bank transfer