If you live in a rural part of the USA and wish to obtain a mortgage loan, you should definitely check out if you might be eligible for a mortgage loan guaranteed by the U.S. Department of Agriculture's Rural Housing Service (RHS). When a loan is guaranteed by the RHS, it is less risky for the lender, which usually means that you can obtain more beneficial terms and conditions for you loan than you would without this guarantee.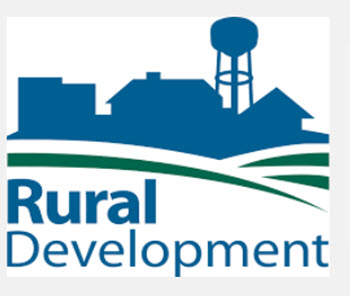 Of course, one should always compare all available mortgage options – there are definitely situations where an RHS-guaranteed mortgage loan is not the right fit.
RHS home mortgage loan program for low and moderate income borrowers
The U.S. Department of Agriculture's Rural Housing Service (RHS) is running a rich array of programs intending to improve quality of life in rural United States. One of the most well-known of these programs is the one that encourages rural individuals and families with low or moderate income to become and remain home-owners. At the time of writing, these mortgage loans come with a 1% effective annual interest and are available for the purchase of a rural home, the construction of a rural home and the rehabilitation of a rural home. Of course, conditions apply.
Section 502 mortgage loan
The section 502 mortgage loan is for lenders that are unable to secure reasonable credit elsewhere. You can be approved of a section 502 mortgage loan even if your creditworthiness is low, but there are limits. You must be deemed capable of replaying to loan to be approved. Also, you may be required to complete a home ownership counseling program.
Priority is given to first-time home buyers.
The reason why it is called a section 502 loan is because it is run by a program established by the Section 502 of the Housing Act of 1949. Section 502 loans can be made directly by the U.S. Department of Agriculture's Rural Housing Service (RHS), but it is also common for the RHS to provide a private lender with a USDA guarantee instead.
What can I use the money for?
A section 502 mortgage loan can be used to purchase or repair single-family housing. It can be anything from a house that is about to be constructed to an old house, as long as it fulfills all the other provisions.
Income requirements
With an income that is below 60% of the area's median income, mortgage loans with loan terms of up to 38 years are available.
With an income that is 80% or less of the area's median income, 33-year direct loans are available. Interest credit can be obtained to bring the interest rate down to 1%.
With an income of up to 115% of the area's median income, 30-year loans provided by third-party lenders are eligible for RHS guarantee.
What's rural?
The RHS has a rather wide definition of rural when it comes to rural mortgage loan programs. Even a small town can be considered rural, provided that it fulfills the other requirements. Therefore, it can definitely be worth checking out the RHS loan programs even if you don't intend to buy a house far out into the desolated countryside.
RHS's definition of a rural area
An open country or any town, village, city, or place, including the immediate adjacent densely settled area, which is not part of or associated with an urban area and which:
(1)Has a population not in excess of 2,500 inhabitants; or
(2)Has a population in excess of 2,500 but not in excess of 10,000 if it is rural in character; or
(3)Has a population in excess of 10,000 but not in excess of 20,000, and-
(i)Is not contained within a Metropolitan Statistical Area; and
(ii)Has a serious lack of mortgage credit for lower and moderate-income families as determined by the Secretary of Agriculture and the Secretary of Housing and Urban Development.
2014 Farm Bill
The 2014 Farm Bill includes a provision that allows some areas with populations up to 35,000 to remain eligible for RHS loans until receipt of the 2020 decennial census.
Home repair grant from the RHS
If you are a low-income rural resident aged 62 years or more, you may be eligible for an RHS home-repair grant of up to $7,500.
Other RHS programs
The RHS is running a wide range of programs, include several rather specific programs with a small target audience. Therefore, it is always a good idea to check out what might be available for you in your specific situation. One of the major well-known RHS loan programs might not be the best option for you when you wish to purchase a property or make improvements to a property that you already own.
Examples of RHS programs:
Household Water Well System Grants
Individual Water & Wastewater Grants
Rural Energy for America Program Renewable Energy Systems & Energy Efficiency Improvement Loans & Grants
Farm Labor Housing Direct Loans & Grants
Building a rental unit or cooperative housing?
The RHS is offering long-term subsidized loans for the construction of affordable rentals and cooperative housing for underserved rural populations, especially if the rentals/housing is for low-income residents, elderly residents or disabled residents.